What is PCT?
The full form of PCT is 'Patent Co-operation Treaty' and is a route that facilitates multi country patent filing in member states. It makes the process easy, short, and less cumbersome as it voids the necessity of filing individual patent application in multiple countries. It needs to be emphasized that PCT is merely a pathway to achieve a hassle free multi country patent filing activity but it has no judicial obligation and strengths. PCT has been administered by WIPO (World Intellectual Property Organization) and currently has 188 member states. This article is intended to help readers know about PCT Filing in India prior to taking a plunge into it. PCT Filing in India
National Phase PCT Patent Application in India
Within 31 months from the priority date, the application enters the National Phase PCT application. The National Phase of a PCT application resembles a national filing in a respective country. The decision to grant patent protection in a particular country ultimately rests on the Patent Office of that country.
Important Documents required for PCT Application in India
Translation of the subject matter in English
Description, claims (if amended, both as originally filed and as amended, together with any statement under PCT Article 19)
Text matter included in patent drawings
abstract
Other Documents required by the Patent Office
Name, address, and nationality of the inventor
Instrument of assignment or transfer in case the applicant is not the inventor
Declaration of inventor ship by the applicant
Address for service in India
Power of attorney in case a patent agent is appointed
Certified copy of the translation. A valid certificate from a translator needed, in case the priority application is non-English
In case there are corresponding applications in other countries, the applicant must file within six months from the date of entry into the national phase, a statement concerning any corresponding applications filed in other countries. The statement must be made on Form 3
Where to file the patent application?
The patent application can be filed at any of the four Patent Offices located at Delhi, Kolkata, Chennai or Mumbai, depending on the domicile, business or place of the Applicant.
All we can say is that filing patent application through PCT route or PCT filing in India could be of immense use when it comes to saving time, energy, and resources as with this, we can file an application in multiple countries in one go. However, the applicant should ensure that the receiving country is in the list of associated member list.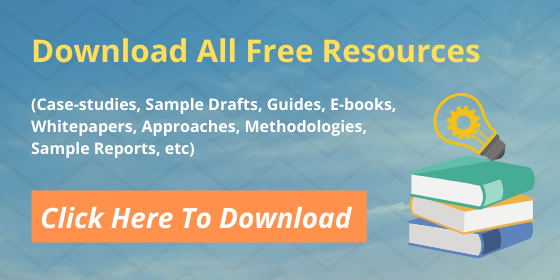 Here you can download all free resources
(Case-studies, Sample Drafts, Guides, E-books, Whitepapers, Approaches, Methodologies, Sample Reports, etc.)