Patent Docketing is a tool that helps in the management of documents during the patent prosecution cycle. Filing a patent application involves the use of several documents. Keeping a track of such documents becomes a tad problematic. Thus, a solid docketing process becomes inevitable especially when you have a large portfolio of patents. To manage the docketing process, IP law firms use patent docketing software to keep track of patent process.
Obtaining a patent grant may take several years . Amidst the hundreds of patent applications, it delivers timely reminders about the deadlines to you.
Read Here – What is Prior-Art? Why You Should Conduct a Prior-Art Search?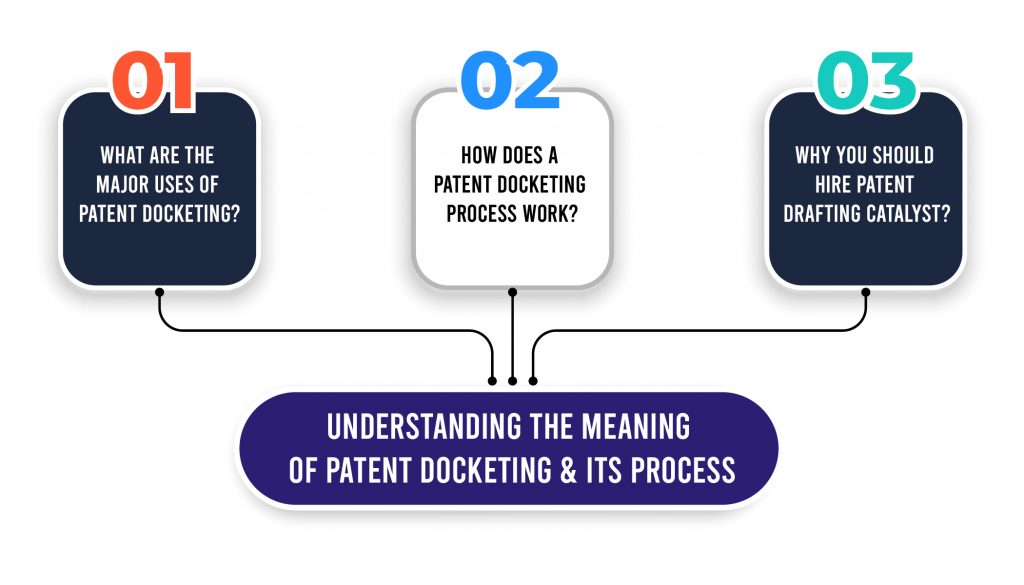 What are the Major Uses of Patent Docketing?
Pocket Docketing systems help in the efficient management of the patent process by keeping a record of the deadlines. With the origin of docketing tools, management of documents has become effortless. A law firm that has a solid patent docketing process may benefit itself in multiple ways:
Sending timely reminders about deadlines, form filing which results in the timely grant of patent.
Keep a track of multiple patent applications simultaneously.
Enables the applicant can check the status of his/her patent application whenever needed.
Documents are properly labeled and organized in a folder and can be retrieved easily.
How does a Patent Docketing Process Work?
We now know that the patent application process involves the use of several documents. The law or firm that the client chooses, adds the details of the client in the database. The information entered should be accurate and details. While inputting information, the patent docket specialist enters the name of the client, nature of the invention, and other details.
Other than that, a patent specialist includes a legal fee that is pending. Besides this, he/she includes the legal fee that is paid, the client's trust account number.
The docketing specialist will add the scanned copies of other documents and set reminders about important dates and deadlines to avoid missing them. Similarly, when further documents come, the patent docketing specialist will attach them to the client's portfolio. This is how this process work and enables law firms to efficiently manage multiple patent applications simultaneously.
Read Here – Patent Drafting for Beginners: Introduction
Why You Should Hire Patent Drafting Catalyst?
Patent Docketing services are a must-have these days especially when you have a large IP portfolio. Patent Drafting Catalyst is your destination in case you are looking forward to availing yourself of this services at an affordable price. The Patent Drafting Catalyst is committed to delivering an exceptional experience to our clients by helping them obtain timely patent grants. Patent Drafting Catalyst's team of experts ensures to meet all the deadlines. At PDC, we have the right blend of resources and experience of our team members who have served clients across 45 plus countries.
Click Here to know more about our services.
Other Related Articles